Anderson left emotional at Lord's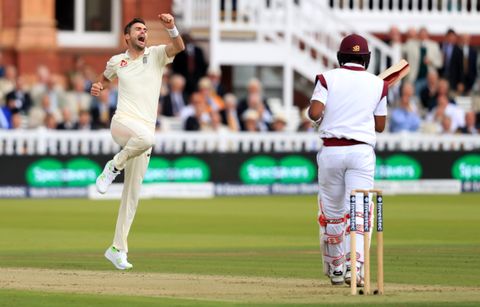 James Anderson admitted he had to struggle to keep his emotions in check after becoming the first Englishman to take 500 Test wickets.
Anderson was watched by his family among the Lord's crowd on day two of the third Investec Test against the West Indies - and when he clean-bowled Kraigg Brathwaite to reach the famous landmark, they were uppermost in his mind.
So too were a group of players who have been present for many of his 129 Tests so far, with former captain Alastair Cook close at hand in the slips to help him celebrate a moment which puts him in the company of just five other bowlers in the all-time global list.
"I felt a bit emotional, because my family were in the crowd - my kids, mum and dad and the missus," said the 35-year-old seamer.
"Knowing they were there made it special, and sharing with guys I've played 100 Tests with as well."
The reaction of his team-mates spoke of their enjoyment too in his achievement, which has helped give England the advantage in a tight contest after the tourists reached a second-innings 93 for three at stumps to nose just 22 runs in front in this series decider.
"It's an amazing feeling to see how pleased they were for me," he said.
"It was a bit more (not quite) teary, but emotional ... I don't normally get like that when I'm trying to focus on my job."
He recovered his composure to take a second wicket before the close - Kieran Powell also bowled - with a different ball, after impact with Brathwaite's middle-stump damaged the first and ensured it is already in Anderson's safe keeping.
"The ball that hit the stumps made a big gash, so they changed it - and luckily someone got their hands on it," he said.
Anderson went to his 500 in just his second over, having snapped up two early Windies wickets in the first innings too only to stay stuck on 499 when Ben Stokes took over with six for 22.
Stokes added a crucial 60 as England then eked out 194 all out despite Kemar Roach's five for 72.
"Ideally I'd have got it the first day, but Ben didn't want me to ..." Anderson, who took a good diving catch for Stokes' fifth wicket, said with a half-smile.
"To to get it today, with the game so tight, it is a big help."
He did so with a very good delivery, before returning for a second spell with an even better one to go to 501.
"I'd bowled a few outswingers, so I thought I'd try full and straight [at Brathwaite], and it nipped back," he added.
"The second one was an outswinger - I'm pleased with both of them."
Anderson had to switch from his favoured Pavilion End just before stumps, however, having been warned twice by umpire Marais Erasmus for encroaching on the pitch as the slope pulled him in.
He was seen discussing the issue with Erasmus, and is one more warning from being ruled out of bowling for the rest of the match.
"I was (just) talking (him) through my 500!" he said.
"I was getting frustrated. I tried to get off it, but he mentioned it a couple of times and then warned me straight away in the second spell.
"I'll be doing everything I can to not run on the wicket.
"They have laws to abide by - but with us batting last, it doesn't make sense to do it deliberately."
Either way, Anderson is thankful to have overcome ups and downs in his mid-career to ensure he has reached his full potential.
"I was just trying to get back on the park," he said, recalling his concerns when he was out of the team a decade ago.
"I think most players go through that, form or injury, and that's made me stronger as a cricketer and person.
"I wouldn't be the bowler I am today without toiling for that."
Roach has similar sentiments, having also had his injury setbacks.
The Bajan seamer had a huge grin on his face as he reflected on the achievement which has put him on the famous Lord's honours board.
"It means a lot," he said.
"There are a lot of [West Indies] players before me - Courtney Walsh, Malcolm Marshall - to be a part of that is an amazing feeling.
"A lot of players have come here and never got it done. So to be part of that board, it's history and it's about going forward as a cricketer, getting better and (trying to) do it again."