Broad upbeat about Ashes chances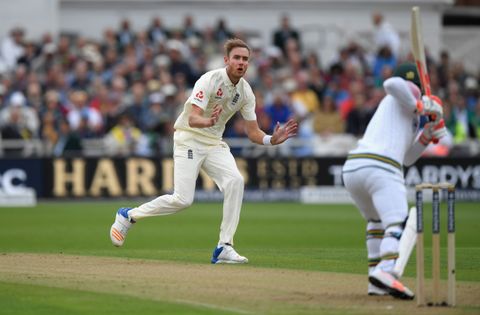 Stuart Broad believes England are ready to hit their peak just in time for the Ashes.
Joe Root's side travel to Australia later this year looking to retain the urn on the back of series victories over South Africa and West Indies during the summer.
Broad, who had a precautionary scan on a niggling ankle injury scheduled for Tuesday afternoon, played his part in those wins and has now amassed 109 Test caps for England.
The 31-year-old feels the team, which has come under scrutiny at times this year with question marks still hanging over the make up of the batting line-up, is ready to hit the heights in Australia.
"This is our time as a team, we have been building to this for a while," he said.
"Importantly, we have got experienced players but now we have those mid-experienced players up at 35, 40, 45 Tests and that is when you begin to learn as a player how to get your team out of trouble or how to put your foot on the throat so to speak."
Speaking at a Chance to Shine event at Downing Street, Broad singled out captain Root and talisman Ben Stokes for individual praise and reckons the bowling attack is ready to stand up and be counted.
"It is hard not to be (optimistic)," he said.
"We have got Joe Root in the side and every time he walks on the field he gets a 50. Stokesy, no-one knows what is going to happen but it is very exciting.
"Rocky (Mark Stoneman) looks quite nice at the top of the order, a very tough character, no-nonsense and plays a simplistic game, which suits the Australian pitches like Michael Vaughan used to.
"The bowling attack has been relatively consistent, the emergence of Moeen Ali's bowling has been awesome for us.
"There seems to be someone different in each Test standing up from the bowling unit and that is what you want - actually it is quite hard to pick the six seamers and someone is going to be disappointed when the squad is announced."
Broad also insisted his ankle issue will not prevent him from playing during the winter and would be ready to turn out sooner - even if he and fellow paceman James Anderson will now be wrapped in cotton wool ahead of the opening Ashes Test in Brisbane on November 23.
"It is fine," he said of the problem.
"Nothing has changed feelings-wise but there are certainly no doubts leading into the winter. There are no worries, if there was a Test next week I think I would be fit to play, it has not deteriorated throughout the summer.
"I don't think the plan is to (play again) I think the plan is for me and Jimmy to rest up for the Gabba. We have six weeks until we fly I think."