Morgan defends Stokes absence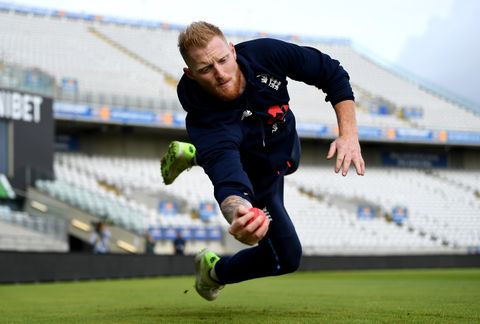 A sell-out Durham crowd will be denied a rematch between local favourite Ben Stokes and his World Twenty20 conqueror Carlos Brathwaite on Saturday, but England captain Eoin Morgan insists resting the all-rounder is the right decision.
The county have exceeded expectations by filling every seat in the house for a standalone match that lays bare the lack of context bedevilling the format at international level, with almost three years before the next global tournament.
Many of the 13,000 flocking to Emirates Riverside will have been eagerly anticipating witnessing Stokes' renewing T20 hostilities with the man who clubbed him for four huge sixes to win the final in Kolkata last April but he has instead been handed a controversial, but well-earned, breather.
In standing Stokes down from duties at Chester-le-Street, the selectors have not only scuppered a grand homecoming for a man whose stock, profile and wealth have soared since his nadir in Eden Gardens but also quashed a compelling narrative in a contest crying out for one.
But Morgan understands that the shortest format must play its part in England's long game, particularly with an Australia tour on the horizon.
"I can see both sides of it, of course guys want to see him play," he said.
"And if there wasn't an injury risk down the line or a huge Ashes tour coming up potentially he might be able to play. It's unfortunate it has to be a game at his home ground but we have to stay strong with the decisions and the plans we have so down the line we don't regret playing him in a one-off game."
The Dubliner brushed aside suggestions that Stokes versus Brathwaite represented a seminal moment of sorts, with the pair having already faced off in 50-over cricket since their most famous meeting.
"It's nothing to us," he said. "It's a long time ago. Ben has obviously learned a lot since then, become a more senior, more experienced player since then and he's better for the experience.
"We played West Indies in March and Ben bowled at Carlos...he got him out in the last game."
The same, curiously, cannot emphatically be said about his adversary on the day.
Brathwaite may have etched himself into T20 history with his brutal last-over assault yet, while Stokes has become one of the game's great cross-format all-rounders and an Indian Premier League MVP to boot, things have hardly taken off for the big-hitting Bajan.
He is not currently part of the ODI set-up, meaning he flies home after captaining this solitary clash, and has only rarely found his best form since winning the trophy for his country.
"It's something I can't get away from...they even have us playing at his home ground," he said.
"Social media won't let me forget it, there's been a few videos going around of late. It wasn't just a boundary or a six, it was four in a row. It was on the stage it was, it was against England and in India.
"It isn't something that will be forgotten for a little while but I know it probably will never happen again so it's about me being as consistent as I can now.
"I probably still can't believe it happened but thankfully we have a T20 World Cup and I have a fantastic story to tell my kids, with the video footage to prove I'm not telling a lie.
"I just want to move on in my career. It was a fantastic achievement and I'm privileged I was the one to make it possible but your career goes on long after that."
Jason Roy is expected to open for England, pushing his case for a return to the 50-over side for the first time since being dropped in the Champions Trophy.
There will also be another chance for Surrey's Tom Curran to show his international credentials after taking five wickets in his first double-header against South Africa. Adil Rashid will also return to centre stage having been conspicuously absent from the Test match scene all summer.