Buttler hopes for Ashes recall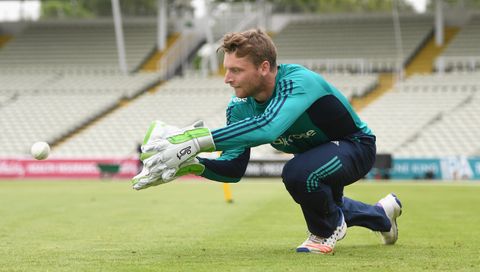 Jos Buttler is still dreaming of winning a Test recall for this winter's Ashes despite but admits he has not scored enough runs to push his case.
Buttler is the vice-captain of England's limited-overs side but played the last of his 18 Tests in December and has been absent throughout the summer, a move which suggests he is increasingly viewed as a white-ball specialist.
He could quite easily take the hint, auctioning his dazzling array of strokes around the world's lucrative Twenty20 leagues between international engagements, but the famous old urn still holds a special allure.
Buttler was captivated by the famous 2005 series as a 14-year-old in Somerset and, having taken on the old enemy a decade on in England, is hoping to earn the nod for the forthcoming trip Down Under.
That would be something of a wildcard pick given he has played only six first-class knocks this season, with a high score of 49 and an average of 17.17, but England's batting line-up remains in flux with two months to go before the first Test in Brisbane.
"I was a child of the 2005 Ashes and I think that is still the best series of cricket ever," he said.
"And having been part of an Ashes series in 2015, for any English or Australian player you know that's what it's all about and the Ashes is still the main thing.
"Of course, you want to be involved with England all the time, it's something incredibly special to be a part of and of course when you're not involved you know what you're missing out on. Everybody's ambition should be to play for England in all three formats."
The 27-year-old accepts he has not made a resounding case since in the Specsavers County Championship, though, and accepts he is not the finished article. Indeed, his hopes may ultimately rest on the selection panel deciding the likes of Tom Westley and Dawid Malan have the same problem.
"It's shaping up okay, I'm just not scoring any runs," he said, candidly.
"Whatever format you play in you need to be scoring runs. In an ideal world I'd like to be doing that but unfortunately it hasn't happened for me.
"I have played a lot more white ball cricket, I have known my own game in one-day cricket for a number of years. In red ball cricket it is still frustratingly something I'm trying to work out.
"One of the skills of modern cricketers is that you have to be able to cross formats. You can't use it as an excuse that you haven't had the time or a run of games. In modern cricket you have to be able to adapt at the switch of a button really."
Buttler has accepted a deal to play for Comilla Victorians in the Bangladesh Premier League, which begins on November 2, but has held off on firming up other short-form deals - including Australia's Big Bash League - as he awaits to hear his Ashes fate.
Should he end up disappointed it is not inconceivable that he does gradually slip away from first-class cricket entirely, such are the opportunities which now exist from travelling T20 specialists.
"There is so much cricket going on worldwide now and a lot of exciting cricket you can be a part of," he said.
"There is no point sitting at home worrying about why you don't get picked or feeling sorry for yourself. There are loads of opportunities out there all around the world.
"Cricket is sometimes a win-win situation these days. You're disappointed to miss out on one tour but there are opportunities elsewhere."