Brathwaite concern over conditions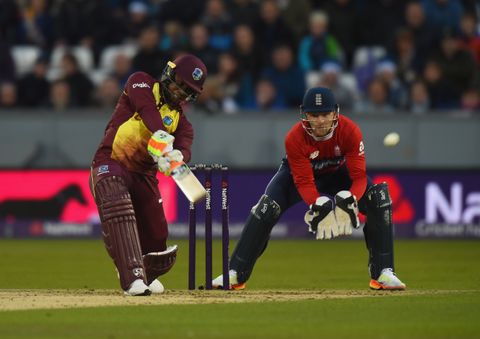 West Indies captain Carlos Brathwaite revealed his side were worried about the possibility of "career-threatening injuries" and discussed a possible abandonment before sealing their latest Twenty20 victory over England on a damp outfield in
None of the Windies' team were involved in the recent Test series and have instead travelled directly from the Caribbean Premier League to the harsher conditions of northern England in mid-September.
But discomfort turned to serious concern after rain showers left the outfield greasy at Emirates Riverside and wicketkeeper Chadwick Walton slipped while fielding a ball, jarring his knee.
The Windies went on to close out a 21-run victory, their 11th in 15 T20 games against the English, but Brathwaite approached the umpires early in the second innings and was ready to press for abandonment.
"I had a chat with a few of the boys in a huddle while Chadwick was getting treatment and most of them said it was unsafe," said the Caribbean captain.
"I told the umpires the boys had some concerns. In the first three or four overs we had two big slips, Chadwick and one other, and that was a worry.
"For that to happen it be a career-threatening injury (next). We always wanted to play but safety is a major concern and it was always in the back of our minds.
"We kind of gave it an ultimatum...we got the outfield roped and we were in agreement that if it continued to be unsafe or if anything dramatic or drastic happened we'd call it quits. But cricket was the winner."
Durham later confirmed three spectators were injured after falling on unstable flooring in the North East Terrace, with stewards evacuating the affected area as a precaution.
England's disappointment at the result will be mitigated somewhat by the isolated nature of this stand alone T20 match, and may file their frustrations away until February, when they next compete in the format.
Their main priority for now is to pick up their performance levels for the five-match one-day series which begins at Old Trafford on Tuesday.
And captain Eoin Morgan is clear that he wants more from his batsmen, after they were dismissed for 155 in pursuit of a reachable target.
"It's the batting certainly," he said,
"We felt throughout the whole game it was a good wicket to bat on and to be chasing 177 we felt pretty confident at the halfway stage. Liam (Plunkett) and Adil (Rashid) did a really good job with the ball, six wickets between them was absolute gold.
"But I think there was a little bit of rustiness in everything we did bar the fielding. With the bat the skill level certainly wasn't there."
As for his own recent form, a total of just 12 runs in his last six innings for England, Middlesex and the Barbados Tridents, he was sanguine.
"My form is in and out all the time, it's not a huge concern but I'd like to score some more runs."