Bairstow relieved to score century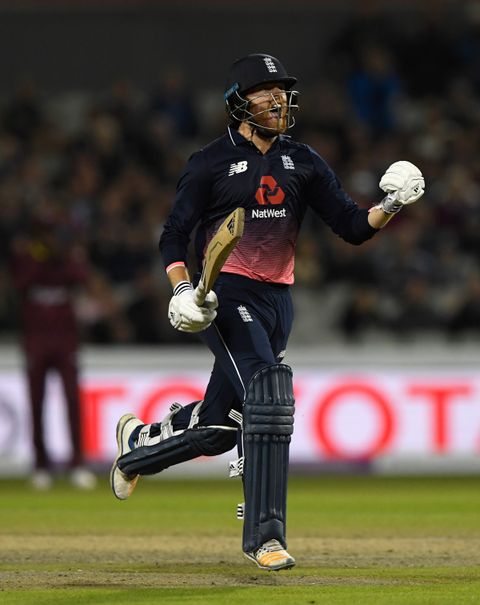 Jonny Bairstow is delighted he got over the final hurdle to three figures at Old Trafford - even if it had to be at the second time of asking this summer.
Bairstow completed an unbeaten maiden one-day international century, with just a minor stumble over his 100th run this time to ease England to a seven-wicket victory and 1-0 Royal London Series lead over West Indies.
It was at this same venue six weeks ago that the Yorkshireman missed out by just a single on a fourth Test century when he was lbw sweeping at South Africa spinner Keshav Maharaj.
As he controlled England's run chase of an under-par 204 for nine against the Windies, he was therefore determined there would be no second successive near-miss 99.
Just for a second, history threatened to repeat itself as he lost balance scampering a third run for his 97-ball hundred - but he regained his footing in time.
"I missed out earlier on in the summer, didn't I?" he said, having got England home with more than 11 overs to spare after he and Joe Root (54) had shared a century second-wicket stand in a match shortened to 42 overs per side because of a wet outfield.
"I was just thinking about not messing up again on 99.
"When I slipped coming back for the third, I thought 'Oh no, not again!'
"But luckily enough, it was slippy enough on the boundary for him to slip too."
It all left Bairstow, 28 next week, thinking right back to his ODI debut six years, and three days, ago - in which he also played a match-winning hand.
"I'm (just) really pleased," he added.
"It seems a long time ago since I made my debut at Cardiff.
"I'm delighted to have scored my first one-day hundred for England. There aren't many people who've done it - and to join that elusive club is something, when you make your debut at Cardiff against India, you want to do.
"So you've got to enjoy it when you do."
Ben Stokes, who had earlier taken three wickets, was his willing partner as the 100th run was scurried.
"He was in the middle when I made my first Test hundred, and he said 'Don't worry, I'm backing up for two on this one'," added Bairstow.
"Then I saw it go out to the boundary, and I knew he had his skates on - so it was a case of 'Right, let's keep going'.
"Then I slipped coming back for that third, so it didn't go quite to plan."
Bairstow was retained as opener here, having previously replaced Jason Roy for England's Champions Trophy semi-final defeat three months ago - but even after this perfect start, he is taking nothing for granted.
Asked if he is expecting a long run as ODI opener, he said: "I don't know.
"I'm not someone who's ever looked too far ahead ... because you know how quickly things can change.
"I don't think you can say 'Oh, you're going to get this game, so many games' - because that's not what professional sport is.
"It's not what we've grown up playing.
"Yes, everyone wants to have so many games ... (but) on different pitches, different people will play.
"Whether it's right or wrong, or a tough decision or not, that's out of my pay grade."
While England will be out to consolidate at Trent Bridge on Thursday, for West Indies this defeat confirms they must go through a qualifying competition to reach the 2019 World Cup.
Batting coach Toby Radford was in no doubt where the match was lost.
"From the start we had, with Chris (Gayle) and Evin (Lewis) flying, we were looking at a really good score," he said.
"But we fell away badly in the middle.
"I thought England bowled well, their usual tactics with cross-seam into the pitch, and made life difficult.
"Then pressure built ... so we fell probably 40 or 60 runs short."