Root hails Bairstow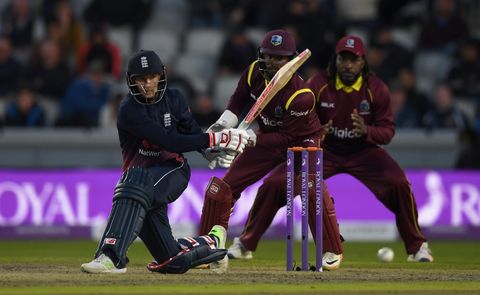 Jonny Bairstow continues to prove he is England's batsman for all occasions.
Club-and-country colleague Joe Root is ideally qualified to make that judgement, having played alongside his fellow Yorkshireman for more than a decade, and he is convinced Bairstow always fits the bill.
He most certainly did after being retained as opener in place of Jason Roy in the first Royal London Series match against West Indies at Old Trafford. Bairstow grasped the opportunity - in captain Eoin Morgan's words - to 'make the position his own' by hitting an unbeaten maiden one-day international hundred.
After England won by seven wickets with more than 11 overs to spare, Root said: "The best thing about Jonny is that he can bat anywhere in the top six.
"He has a great game - a brilliant power game where he can be destructive at the back-end or the powerplay up front - and he also works and rotates the strike very well."
Bairstow's breakthrough at the top of the 50-over line-up was undoubtedly the biggest plus for England as they went 1-0 up with four to play.
Root points out nonetheless, having shared a stand of 125 with the centurion in the impressive Manchester chase, that England must consolidate over the next 10 days, starting with match two at Trent Bridge on Thursday.
Echoing Morgan's pre-series remarks, following a semi-final exit from the Champions Trophy on England's last ODI assignment, Root stressed consistency is key.
"It's a good start, but we won't be able to gauge it (yet)," he said, adding reference to his dropped catch at second slip which reprieved the dangerous Chris Gayle on nought.
"It's great to win so convincingly, and I thought - after a little blip at the start - we played really well.
"At no point did we panic and the bowlers found out the surface and ways to take wickets throughout, which is a massive part of one-day cricket.
"Then Jonny was outstanding with the bat.
"He was very switched on and you could see how much it meant to him."
Root made up for his missed chance by taking a second - a tough one running back from the off-side ring - before the big-hitting Gayle could do too much damage.
"I thought it could be quite costly, and when the second one went up I thought 'I have to get there'," he said.
"(There was) a huge amount of relief when I managed to cling on to it.
"You almost feel guilty with each run they score (so) it's just nice to be the one who made amends."
England will be tempted to stick with a winning team in Nottingham but may give seamer Jake Ball a chance on his home ground, with left-armer David Willey perhaps most likely to make way if so.