Trent Bridge, Nottingham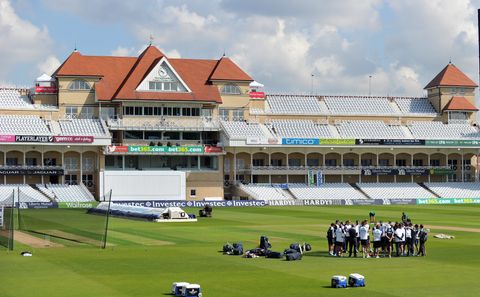 Perhaps the most improved ground in England, Trent Bridge can hold claim to being the finest cricketing arena away from Lord's in the country.
Established: 1841
Home team: Nottinghamshire
Capacity: 17,500
End names: Pavilion End, Radcliffe Road End
Fantastic redevelopment from a committee who know full well that Tests represent the majority of a club's income these days, has seen the magnificent Radcliffe Road stand emerge. And 2008 saw the new £8.2m Bridgford Road stand and permanent floodlights added to an increasingly impressive venue.
Another ground that can be relied on to produce a result, the new developments change the atmospheric conditions to the extent that they aid swing bowling which has made Nottingham a favourite destination for England's bowlers in recent years.
England's leading Test wicket-taker James Anderson has a particularly fine record on the ground - generally with the ball, but in 2014 it was his batting which came to the fore as he made a career-best 82.
South Africa visit Nottingham this year for a Test match, with the West Indies in town at the end of the summer in white-ball cricket.